Florida's Lizards
Nile Monitor Lizard

(Varanus niloticus)

NONNATIVE, INVASIVE

_________________________________________________________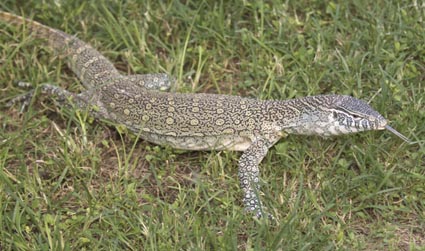 Nile Monitor Lizard (click on image to view larger)

Photo by Patrick Lynch (SFWMD). This photo may not be used without the express written permission of the photographer.

Size:

Up to 6 ft.

Identification:

Slender body is tan to brown. Back and sides are marked with bands of tan spots interspersed with darker speckles; spots fuse into solid tan bands on the tail. Head and neck are marked with tan, V-shaped marks. Tongue is forked and fleshy. Scales are somewhat smooth but not shiny. These lizards lay eggs.

Distribution:

To view a current map of all Nile Monitor Lizard sightings in Florida, click the map.

EDDMapS sightings of Nile Monitor Lizards in Florida - 25 Aug 2010.
Nile Monitor Species Profiles & Additional Information: