Florida's Lizards
Tegu Lizards

(Tupinambus species)

NONNATIVE, INVASIVE

_________________________________________________________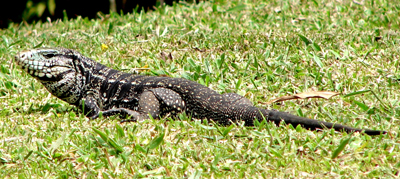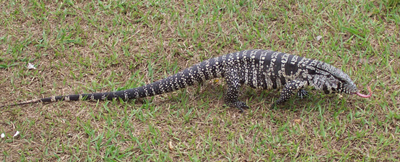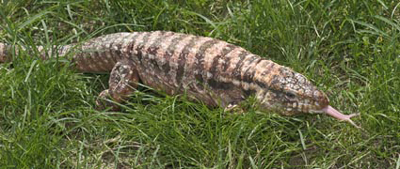 Tegu Lizards

Photos by Mario Sacramento, Mauro Teixeiro, Jr., Patrick Lynch (SFWMD), and from Wikimedia Commons. These photos may not be used without the express written permission of the photographer.

Size:

Up to 4 ft. or more

Identification:

Somewhat slender body is gold/tan, reddish, or gray; body color varies among species. Back and sides are marked with dark bands interspersed with dark speckles. Head and neck are often much thicker than those of monitor lizards. Scales are smooth and somewhat. These lizards lay eggs.

The Black-and White or Giant Argentine Tegu is established in West-Central and South Florida at localized sites. Other tegu species that have been spotted in Florida are the Red Tegu and Gold Tegu.

Distribution:

To view a current map of all Black-and-White Tegu Lizard sightings in Florida, click the map. To view sightings of other species of tegu lizards, go to http://www.eddmaps.org/florida/distribution/animals.cfm and select a species.

EDDMapS sightings of Black-and-White Tegu Lizards in Florida - 25 Aug 2010.
Tegu Lizard Species Profiles & Additional Information:

Black and White Argentine Tegu video by Mario Sacramento (embedded from YouTube)