Florida's Snakes
African Python
(Python sebae)

NONNATIVE, INVASIVE


Blotched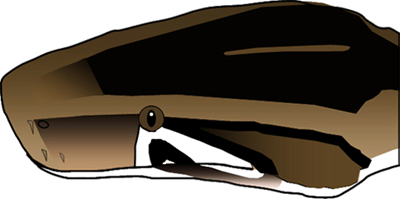 African Python (click on images to view larger)

Photos by Lori Oberhofer (NPS) and Bob Reed (USGS); illustration by USGS. These photos may not be used without the express written permission of the photographer.

Size:

Up to 12 ft. or more

Identification:

Body is grayish tan to brown. Back and sides are marked with irregular brown blotches with dark outlines; blotches on the back usually DO touch, and blotches on the sides may be somewhat C-shaped. Head is marked with an arrowhead-shaped mark with a light line down the center, and dark and light wedges under the eyes. Belly is marked with splotches. Scales are smooth and shiny. This snake lays eggs.

Distribution:

To view a current map of all African Python sightings in Florida, click the map. NOTE: On 22 Dec 2010, 30 FWC agents searched the Bird Drive Basin and found no African Pythons present.

EDDMapS sightings of African Pythons in Florida - 25 Aug 2010.
African Python Species Profiles & Additional Information:

African Rock Python VIDEO (embedded from YouTube)
Go Back to Florida's Snakes - All Regions