Green Anaconda
(Eunectes murinus)

NONNATIVE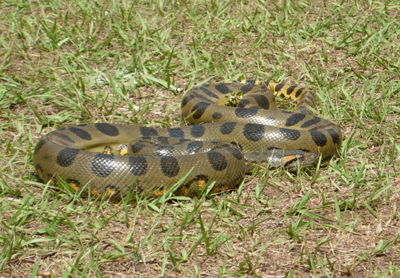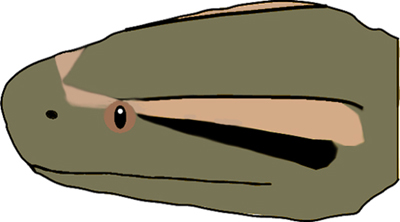 Green Anaconda (click on images to view larger)

Photo by Monica McGarrity (UF); illustration by USGS. These photos may not be used without the express written permission of the photographer.

Size:

Up to 12 ft. or more

Identification:

Body is olive green. Back and sides are marked with round, dark blotches; blotches on the lower sides have orange centers. Head is marked with a pair of broad, light and dark facial bands from the eyes to the corners of the jaw. Scales are smooth and shiny. This snake gives birth to live young.

Distribution:

To view a current map of all Green Anaconda sightings in Florida, click the map.

EDDMapS sightings of Green Anacondas in Florida - 25 Aug 2010.
Green Anaconda Species Profiles & Additional Information:

Green Anaconda VIDEO - National Geographic (embedded from YouTube)