Wildlife of Florida - WIS3402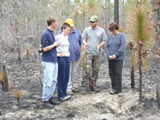 The goal of Wildlife of Florida is to increase student awareness and appreciation of Florida's diverse natural communities and its vertebrates—native and introduced species of birds, mammals, amphibians, and reptiles. Wildlife of Florida is taught as separate lecture and lab courses. The lab emphasizes taxonomy and species identification, whereas lecture focuses on ecology of wildlife and Florida's major natural ecosystems.
Wildlife of Florida lab is a very "hands-on" course, and students work with many specimens (skins, skulls, pickled specimens) in order to learn characters that allow identification to species. Students learn to identify species through detailed study of preserved specimens and use of dichotomous keys and field guides. Information delivery will consist of study of preserved museum specimens, use of dichotomous keys and guides, brief lectures, class discussion, and field outings. Prior field outings have included snorkeling with manatees, birding trips, aquatic turtle capture, and weekend camping trips at UF's Ordway Biological Station.
The lecture course provides students with a basic understanding of the natural history, ecology, behavior, habitat affinities, distributions, and identification of many of Florida's native (some introduced species too) birds, mammals, amphibians, and reptiles. Conservation and management issues of select species are also covered. Students learn about Florida's diverse natural communities, which serve as habitat for the state's vertebrates. Information delivery consists of lectures by the course instructor and guest speakers, class discussion, assigned readings and videos.
Dr. Johnson teaches the lecture and lab courses face-to-face to students in Gainesville every spring semester. Students must register separately for the lecture and lab portions of the course. The lab course is largely restricted to wildlife and natural resource conservation majors and space in lab sections is limited to 30 students. Enrollment in the lecture course is capped at 170 students.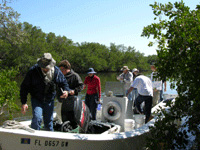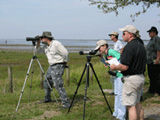 University of Florida / IFAS
Dept. of Wildlife Ecology & Conservation
301A Newins-Ziegler Hall
Gainesville, FL 32611
Office: 352-846-0557
Email: tadpole@ufl.edu